Apitap, The All-in-One Restaurant Management System
Apitap, The All-in-One Restaurant Management System, was created as an extension of the Apitap merchant portal to provide restaurants with all the primary features of a POS while taking advantage of Apitap as a unified digital marketing platform. It doesn't matter if the business comes from online, through mobile, over the phone, or at the location. Apitap provides restaurants a genuinely unique package that can increase sales and advertising results while helping their staff become more productive and efficient. Apitap's Dynamic Digital Menus ensure that not only are a restaurant's promotions and advertising reaching to their potential customers, but they are always up to date based on current inventory and product schedules automatically. With Apitap, restaurants don't need to buy expensive and time-consuming additional systems to make their business succeed.
Coming Soon: Apitap Online Shopping Mall
"The Apitap Online Shopping Mall is coming soon. Merchants will have all the benefits and features of the mobile app, plus even more ways to promote and develop their business including sales and order tracking. Because it's an integrated part of the Apitap platform, everything merchants have already entered will automatically appear in their online storefront in our online mall at launch. There's nothing to re-enter and merchants can manage it from the same portal they are already using as Apitap subscribers. Check back often, or subscribe to our news announcements, to see our updates as we get closer and closer to this exciting expansion."
Immediate Sales with
Enhanced Advertising
Apitap knows the importance of gaining a customer's attention in order to build sales.  To do this merchants need ads that work and that they are in full control over. To reach the most customers they need to be able to customize their ads as needed, to display what they want, when they want, and how they want. Apitap allows merchants to create ads in real-time that can even be targeted to specific devices, times of day, and locations to display.  In today's competitive market, the business owner needs to not only be two steps ahead but able to shift gears and direction at a moment's notice to gain the most sales. With Apitap they can do just that.
Real Customer Loyalty
and Repeat Business
Merchants have their own branded storefronts inside Apitap that customers can interact with and follow, like in social media. Whenever a consumer buys in Apitap they always know exactly who they are buying from and can return easily at any time to buy from them again. Consumer's can even share the merchant throughout social media for word of mouth promotions.
RESTAURANTS DON'T HAVE TO SUFFER ANYMORE!
There's a new solution to help them re-grow their business, re-gain their customer loyalty, and re-build their sales
Download the Apitap Restaurant Booklet to Read More!
True Customer Engagement with
Real-Time Messaging
Merchants used to know their customers and talk with them directly to generate sales. Despite all the ways to communicate today, much of that direct involvement has been lost. With Apitap that ability, encouraging sales in the process, is back. Merchants can can send announcements and messages in real time to help customers know about specials and to engage with them directly to guide their purchasing.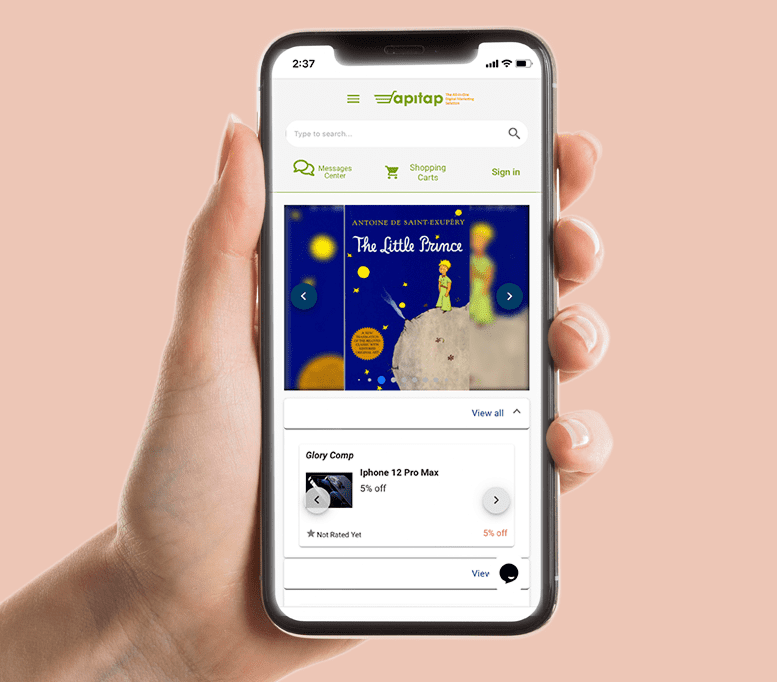 Promote through Mobile, Web, In-Store,
and Social Media
Apitap is more than just an online marketplace for merchants to sell their goods and services. It's a promotional tool with features that spread throughout traditional print ads to in-store, online, mobile, and social media. Apitap is beyond omnichannel, its unified channel. All promotional methods can be shared between each of them and are automatically linked together, so a merchant can focus on promoting and growing their business and not entering data over and over again.
Our Apitap Ad Network is one of the many promotional tools we provide to participating merchants. It is used to create ads that can be used anywhere, from in-store displays to the Apitap mobile app. With it, merchants can create ads to promote store events and sales or specials, or for highlighting individual products and services. They can associate products or services with the ads so when it's displayed on the Apitap mobile app, consumers can buy immediately instead of waiting to visit a store or website. Ads can be created for either portrait or landscape display so the merchant can decide exactly how they most and best want to present their business.
Bring Your Store to the Customer's Door ™
Apitap lets you reach customers anywhere they may be, to not only gain sales but to also build customer loyalty and repeat business.